Fitpuli data analysis reloaded: What are we doing during the curfew?
The worldwide spread of the coronavirus pandemic has brought a number of measures and restrictions that have so far been largely known only from blockbusters. In our previous blog post, we looked for the answer to how much our daily life has changed based on the data measured by Fitpuli. Since the article was published, the government has introduced curfew restrictions, so we thought it was time to look at our data again.
March 20, 2020. On this day, we published our previous post on data analysis of changes in physical activity. Normally, the 14 days that have passed since then don't seem so special, but hey, there's a pandemic and everyone knows the answer from a bite: it's exactly a quarantine time. The coronavirus has changed the points of reference and often changes the way we organize our lives from day to day.
To characterize our lifestyle changes, we use the daily step count as the most common activity parameter again in our current analysis. It's worth starting right away by looking at the previous graph added the data measured since last time. Here it is: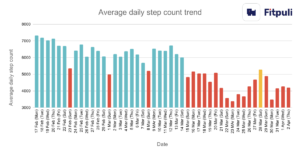 (Sundays before social distancing and days after the introduction of home office at most of our partner companies are marked in red. Day 1 of the curfew restriction is marked in orange.)
It can be seen that the situation has not changed significantly since our previous post. The average daily step count continues to show decreased values, so we can conclude that our past findings might be correct: presumably, we can see the effects of home office and social distancing. The temporary increase on Day 1 of the curfew restriction may indicate activities that our users prepared for the subsequent more stringent measures (e.g. food shopping, settling their urgent matters, taking the time for recreational purposes).
Before turning to the more detailed dataset, it is worth taking a look at the chronology of the governmental measures related to the novel coronavirus pandemic in Hungary.
March 4:

The novel coronavirus pandemic has reached Hungary.

March 11:

The government declared a coronavirus emergency.

March 16:

Public events were banned, cinemas and theatres were closed, and shops are to close after 3 p.m.

March 23:

Most companies that were still operating ordered home office for most of their employees.

March 28:

Curfew restriction has been enforced: citizens can only leave their homes for work and basic needs.
As the next step, we selected 4 Mondays (March 9, 16, 23 and 30) and looked at the trends of intraday step counts. On the earliest Monday (in blue), the pandemic has not yet had a significant effect on our users' daily routine, while on the next Monday (in red), during the declared emergency, a modest decline in step count can already be identified. For the last 2 Mondays (yellow and green) we are already seeing a massive change.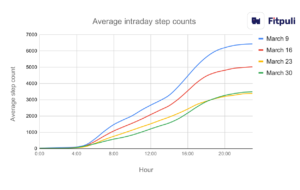 Interestingly, while the average daily total number of steps for the last 2 Mondays is nearly the same, on March 30, a further decrease in activity is observed in the period of typical working hours from 8 a.m. to 5 p.m. (presumably due to home office), while in the following afternoon hours our users compensate for this activity decrease (e.g. they work out at home or take a walk for recreational purposes).
We were also curious to see how the activity for each hour has changed during the day. March 9 was taken as baseline, and the intraday differences from hour to hour are shown in percentage for the other 3 Mondays.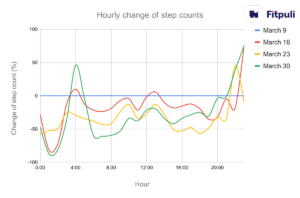 Here we can see that most of the decrease falls in the morning and in the afternoon-early evening (working) hours, but around noon the rate of decrease is smaller (this may be a sign of activities related to lunchtime). There are possible explanations for the higher activity results of unusual periods (dawn and night), which even tend to increase the average activity:
The physical activity of a small number of our users during these periods has increased, and this is over-represented in the average.

Those working in non-traditional work schedules choose to walk instead of public transport.
Our recent data analysis clearly suggests that working from home is permanently modified our users' daily routines, and this has led to a significant decrease in average physical activity. At the same time, there are also signs that Fitpuli users have begun to slightly compensate for this outside of working hours.
This is certainly great news, but it still cannot be overemphasized: let us continue with social distancing in mind. Don't give up now, it is extremely important to hold on distancing to stop the virus spread!
#StayHealthy #StayActive #StayHome
(Obviously, we also have to discuss the limitations of our survey: it is based solely on Hungarian data, Fitpuli users are not a representative sample, and the duration of data collection is not sufficient to draw long-term conclusions.)