Team challenge: how to help employees keep their mental health in check while working from home
A lot has changed since February. In a few short weeks, remote work has gone from perk to pain, with many of us starting to feel nostalgic about the good old times we used to spend in the office. We've asked our in-house psychology expert, Bori Varga, about the downsides of WFH and what companies can do to help employees stay productive, connected and, most importantly, sane while they #stayathome.
We often hear that humans are social animals but rarely think about how this came to be. The answer, as always, lies in evolution. Primates started banding together more than 50 million years ago, and early humans 3-4 million years ago. At the time, living in groups primarily meant safety and more success hunting. Without the physical and psychological resources of the group, individuals' chances of survival dropped significantly.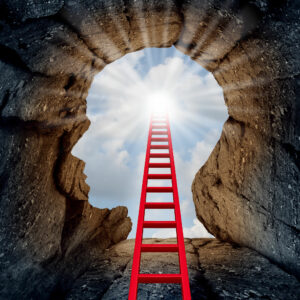 But now, our survival lies in isolation. In the wake of the coronavirus outbreak, people all over the globe must distance themselves from family members, friends and co-workers. And this is something neither evolution nor civilization has prepared us for. "This outbreak is like no other. The 1918 influenza pandemic was the last severe global health crisis, but life has become so much faster since then," Bori says. "No one knows when the current crisis will end or how it will play out. Understandably, this uncertainty is a major cause of anxiety for many of us."
And that's only the tip of the iceberg. Without socializing during and outside working hours, loneliness can sneak up on us quickly. Not to mention that for most people, their workplace evokes a sense of stability, belonging and regularity, which they now have to do without. "This often hurts motivation, efficiency, cooperation and knowledge sharing within a team. So it's very important to focus on how we can make the most of this situation, both at individual and organizational level," the psychologist advises. Here are some pointers. 
Mindfulness is a superpower
Our life and work are two parts of the wellness equation. If things are OK at home, we tend to be more productive at work, while experiencing self-efficacy in the office will put us in a good frame of mind well beyond working hours. Working from home, however, these two things get more intertwined than ever. Bori says: "It has never been more crucial that we keep an eye on our habits and behaviour, all day, every day. Set up clear boundaries between work and personal life, build self-control and stick to your daily routine."
Sound body…
Sound colleague. Taking care of ourselves, both mentally and physically, should be on top of everyone's to-do list while self-isolating. This is why we've recently made Fitpuli's Office Gym module available to everyone, including a full training programme developed by Hungarian fitness world champion Alexandra Béres. Of course, there are many other ways a digital corporate health programme can help employees stay in shape. "The mood tracker, sleep tracker, step tracker and water consumption tracker give users regular feedback on their health indicators and help them achieve their goals," Bori explains. 
One goal, many paths
Speaking of goals: individual and team challenges can do wonders in keeping people driven and effective. By challenging ourselves, we can improve self-efficacy and motivation. But with a whole team on our side, we can do much, much more. Bori's advice? "Get creative! Set deadlines for each other so you have something to work towards, run team challenges, share your daily WFH lunches on the internal communication platform or agree on a step goal that your team, or the entire company, has to achieve every day."  
Keep close from afar 
Don't forget about employees' individual needs, either. Just because a manager doesn't see their team on a daily basis doesn't mean they should skimp on regular, constructive feedback. "Leaders must make people feel that their work is still supervised and appreciated," the psychologist explains. Along with their health, of course: make a conscious effort to educate staff on how to deal with the coronavirus crisis, stay safe and cope with the challenges of WFH. "There are companies who've set up dedicated platforms for employees to ask questions and share their concerns about remote work. This sends a clear message: we're in this together."