The way we work: will the pandemic crisis change the workplace forever?
The coronavirus came, saw, and conquered virtually every aspect of our lives. All over the globe, living rooms have become makeshift gyms, nights out with friends have moved online and team meetings can now officially be attended in pyjama bottoms (although they still shouldn't). And all everyone can talk about is when we can finally go back to normal, both in our private and work life. But can we ever go back to normal? Even more importantly, should we? We've recently sat down with veteran HR expert Judit Kmoskó to discuss how the pandemic has shaken up the workplace – and why it might be for the better.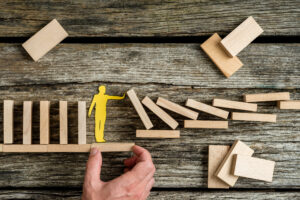 What impact do you think the current crisis has on how we work?
Work as we know it had already begun a transformation well before the pandemic – and it was about time. The problem is that in the wake of the coronavirus outbreak, this transformation was suddenly forced on us rather than having taken place organically. In a matter of days, we had to give up routines created over the last ten, twenty or hundred years. Like going to work every morning. This crisis has brought out a kind of openness in businesses that they didn't necessarily show before. If they can use this to their benefit, the challenges could even turn into opportunities for growth. 
Let's take remote work as an example. At the beginning of 2020, a lot of companies were still skeptical about the efficiency of working from home. Many supervisors simply didn't trust that their employees would actually get the work done. So they didn't allow or hadn't even looked into remote working options. And I'm not only talking about manufacturing plants but tech companies, too. This is because, for leaders, it's important to keep a finger on the pulse of their company. Not just virtually, but physically, too. The pandemic has overridden all this. 
What positive changes have you seen?
First of all, many people have realized that remote work is not as bad or difficult as it seemed at first sight. In fact, what I keep hearing from team leaders is that cooperation and performance within their teams have actually improved. Team members have more focused discussions with one another with less distraction. In other words, supervisors can pay more attention to their teams and most team members can pay more attention to their tasks. 
It's important to remember that the good habits we're forming now will come in just as handy when we're back in the office. For example, I've started having morning and evening check-in sessions with my teams so we can have a clear start and end to our workday. When we say goodbye to each other, I want my team to know that it's time to shut down their computer and rest. Otherwise, you'll still be answering emails at 10 p.m. and the days just slip by. 
What are the biggest challenges?
Working from home, a lot of people feel the need to be always available, which can become a source of anxiety. Things are even harder if you're a parent with kids at home or if you don't have a dedicated place for focused work. We should all keep in mind that this is a situation none of us has ever been in before and everyone has their own way of coping. Some of us will find a silver lining, others will struggle. Companies must acknowledge these varied reactions and handle them properly. 
How should they do that?
Communicate, communicate, communicate. There must be an ongoing, honest dialogue between a company's leadership and their employees. Not only about the latest updates on the pandemic but also about the future of the company in light of current events. Online coaching and stress management apps and weekly, company-wide pulse check surveys can be of tremendous help. Plus, let's not forget that employees like to keep a finger on the pulse of their company, too. Find new channels for C-level management to stay connected to staff, like virtual town hall meetings. Office yoga sessions or coffee breaks can also be held online, so there's no need to cancel team events, either. 
And finally, how should we prepare for going back to the office?
Thoroughly! I'm sure that everyone will be scrambling to get back on track as fast as possible – expect total chaos! My advice is to set up re-onboarding processes well in advance so there's one less thing to worry about. Also, new hires should be properly introduced and trained, even if they've already done some of it online. 
But the single most important thing is to learn our lessons from this crisis so we don't make the same mistakes again. For example, how dangerous it is to keep information siloed within an organization. There has never been a better time to create knowledge bases or company wikis that staff can use later on either during onboarding or in their day-to-day.