Corporate wellness programmes: Without a scientific basis, just money down the drain
The Corporate Health Programme Chaos
Leading industrial societies around the world are faced with rising rates of chronic illnesses, predominantly caused by an unhealthy lifestyle and an aging population. This phenomenon imposes a direct economic burden on employers that is measurably worsening, and many large enterprises have responded by implementing workplace wellness programmes.
However, in many cases, the applied wellness programmes produce results that are hardly quantifiable or completely negligible, due to being widely varied in terms of technical content. This can be attributed to a lack of an evidence-based concept of promoting health. Within this paper we demonstrate how a well functioning corporate health programme generates return, and why a misconstructed wellbeing programme stays uneffective – and how science-based health improvement is related to all of the former. 
Download our whitepaper below!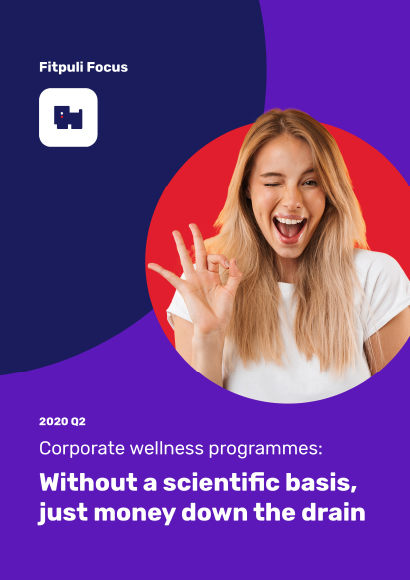 By entering your email address, we will send you the complete whitepaper
Based entirely on scientific evidence, our digital employee wellness programme has been created for companies looking to win big.
Stay in the know
Sign up for our newsletter and never miss another update on digital health care, employee wellness programmes and all things health! Powered by Fitpuli's health experts.