The Best Office Fitness Challenge Ideas in 2020
Keeping employees motivated and engaged is a challenging task for every manager, but since you are here, your company is ready to step on to the right path.
There are two kinds of office fitness challenges: the boring ones and the entertaining ones. Enjoying a fitness challenge is not necessarily about the types of body movements. Many companies skip the central values of what makes these challenges effective: 
Competition

Gamification

Storytelling
Office fitness challenge: where to start?
Competitions can be based on teams or individuals. Not every type of fitness challenge can be used for battling teams to take the win. And vice versa, fair competition between groups isn't the best suited for individual challenges.
Gamification is also essential: let's say now you have a great competition planned between your colleagues. Set a goal; for example, the winning team is which takes the most steps at a given time. 
Gamification is not about setting a goal but to motivate your colleagues on their way to reaching it. A notification sent from a fitness app tells that "Hey, the other team has 300 more steps, come on guys!" can cheer up the race. So does a badge-system which gives new rank to your biggest "step-makers" as a sign of recognition.
With gamification, you can reward employees and measure critical performance data.
Storytelling is where you have the opportunity to communicate your company's goals metaphorically. People are not like Forrest Gump: they don't just run or walk: they need a story to do it. You can announce something. 
Imagine closing a competition with these words: 
"I'm proud that you reached the goal, 100.000 steps. I'm gladly announcing that thanks to your work, our website traffic just reached this number in the last week."
Express yourself with storytelling while you improve your employee health activities.
We have some fitness challenge ideas for you, but you have to make them unique. 
Office fitness challenge ideas
Let's make your corporate wellness program effective. To ensure this, you need to focus on different aspects of wellness programs:
physical activity

healthy eating

mental health and productivity

team building efficiency
The goal is not only to lose weight but also to increase your colleagues' health and well-being. This way, employee morale will improve, and team members can get to know each other while your company is saving insurance and temporary replacement costs. 
Let's see the ideas!
The walking challenge
We used this as an example above, but there are still some details we want to share with you. Because we know what you think: "walking is boring".
However, sometimes the most uncomplicated challenge can make the best challenge. Overcomplicating them can be counterproductive. Don't forget, a competition like this has to be a good side-motivation, but shouldn't take away the focus from your employees' daily tasks.
For this, people just need a device to count the number of steps a day they take. 
Advantages:
Simple

Cheap

Teams or as individuals can also compete 
Disadvantages:
Needs creativity and storytelling to keep up the motivation

Not among the funniest team building activities
But you can just make a walking meeting sometimes, without competition. Or compete with your last data measured.
Workout challenges
Other measurable fitness activities can challenge your employees. The key is that people with different fitness levels have to compete, so the focus of these challenges must be fair and based on personal skill development.
Here are some examples:
Plank challenge: do at least 1 minute long each day

Do as many push-ups as you can

…or sit-ups

…or burpees

… and stretch every day!
Maybe the winner could get a free gym membership, but it's up to you. 
Healthy eating challenge
Conscious eating can be a healthy competition with much joy for your employees. This way, only healthy snacks are allowed in the office. 
Some examples:
Weight loss challenge: don't consume any sugar, fast food, soda, juice, and red meats. It's not just about weight loss; it's about becoming environmental-friendly too. 

Make a healthy lunch for the others, and get points for your creation. Who's going to be the office's MasterChef?

Eat at least two fruits and vegetables a day
Quit smoking challenge
Probably the hardest challenge for chain-smokers, it almost seems like it's impossible. Encourage your employees patiently and put a high reward for everyone who succeeds. 
Build new habits
Since your employees quit smoking, they need other habits. You have to think small: habit-changing has to be made with tiny goals first. If someone wakes up at 10 am on the weekend and want to wake up earlier, then the first step is to change the alarm clock to 9:45 and not 8:00. Rapid changes can be demotivating and counterproductive.
Habits to change:
Sleeping challenge: get to bed earlier at night. Then wake up earlier in the morning

Take the stairs instead of the elevator

Drink and eat small amounts several times a day

No eating after 8 pm

Eat less meat: start with Meatless Mondays

Don't use your phone while driving

Don't use any electric device before sleeping

Bike to work (if and when possible)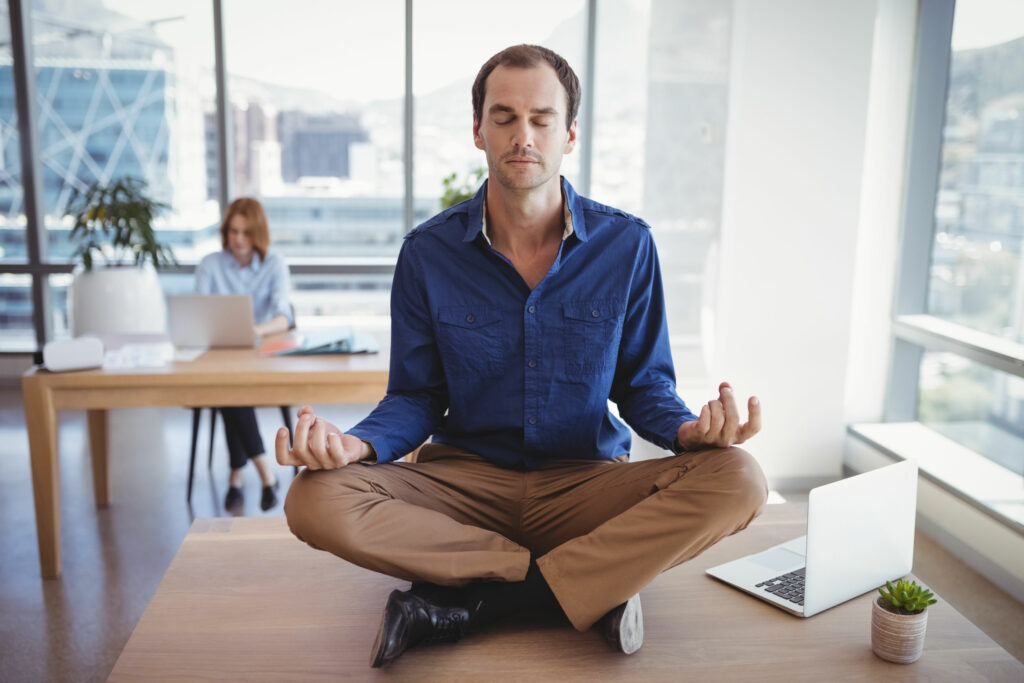 Employee wellness for emotional health
Corporate wellness programs are mostly about providing employees some rest with a team-building event at a wellness center or an office yoga practice. 
A wellness challenge can be about:
Using meditation apps: spend more time meditating!

Going to yoga, sauna, or other healthy places in a regular time interval. 
Boost your employees' mental health
The icing on the cake is when you take good care of your employees' mental health too. Providing a friendly atmosphere with a supportive organizational culture can significantly improve your employer branding. 
How can you reach that?
Well, you can organize CSR events:
Be a volunteer

Raise money for charity

Support the local community

Organize a good, educational event 
Or encourage your employees to:
Do an act of kindness every day

Spend their coffee-time together

Do something after work together
If your corporate is demonstrating good values to your colleagues, then employee satisfaction can be higher. 
Office fitness challenge app
Almost all of the ideas above can be measured with a good fitness app. In short, FitPuli is your personal digital wellness expert that helps you look after and improve your health, mood, performance, and quality of life 24/7.
That means Fitpuli can check your employees' everyday routine and create a healthy competition between them.
Find out more: Fitpuli fitness app.
It's easy to implement into everyday life: everyone has a device and can connect to the corporate's fitness challenge program. A fitness tracker can be a phone or even an Apple Watch. 
Workplace fitness challenge: key takeaways
FitPuli encourages health behaviors to prevent illness and regain good health. Our goal is to make employee wellness programs more effective and thus, we help you to make it a competition with
Measurable data

Gamification

Flexibility. 
Using FitPuli makes a 27% decrease in sick days, a 5-11% increase in productivity, and a 10% drop in fluctuation. That also means saving costs on health insurance. Read about the hard return on employee wellness programs.
Based entirely on scientific evidence, our digital employee wellness programme has been created for companies looking to win big.
Stay in the know
Sign up for our newsletter and never miss another update on digital health care, employee wellness programmes and all things health! Powered by Fitpuli's health experts.