Corporate Health and Wellness Programs in the Modern Workplace
Every company should have wellness initiatives: it's a great way to encourage employees to maintain healthy behaviors while the team morale can improve. More than 80% of big companies have corporate health and wellness programs in the US, and 50% of small businesses implement such programs. 
Wellness is now a 4.2 trillion dollar industry in the United States, and it continues rising each year. Organizing some kind of fitness challenge is almost a standard.
Of course, having a corporate health and wellness program doesn't mean that it is effective and well-suited for the company. There are some rules to follow.
Should companies take care of their employees by utilizing health and wellness initiatives?
No matter if you run a small or a giant company: motivation and workplace culture depend on the quality of provided wellness programs (if provided). However, there are some struggles implementing fitness programs to company culture in both cases.
Struggles in a small company:
High costs

No experts in the organization: learn or hire?

Resource-intensive

"Takes time from employees" 

Not able to create a high-quality fitness challenge with trackers and rewards

Who takes the responsibility?

Fair rewarding
Struggles in a large company:
Extra high costs

Resource-intensive

What is the goal?

Becoming overcomplicated

Bad communication
Most of the time, large companies can partner with wellness companies to ensure a good program, improve employee motivation, and achieve behavior change. 
There are cheap and easy ways to do a fitness challenge, but you always have to make sure that you have useful data to track your running program's effectiveness.
Why are wellness initiatives important?
Another study shows that the average number of skipped working days/year/staff members increased from 23 to 30 in recent years. This should encourage companies to invest in corporate health and wellness programs. 
There are many advantages to these programs:
Reduce health risk

Save on insurance/health care costs

Lead to behavior change such as quit smoking and healthy eating

Provide mental health, reduce stress level

It's a long term investment: the fluctuation rate is expected to decrease

Improve employee morale with wellness incentives 

Create a healthy and productive workplace

Less substitution: everyone can focus on their own tasks

Can replace team-building events
Numbers are even more expressive: an HBR report shows that after every one dollar spent on wellness programs there is a 3.27 dollars fall in medical costs. The companies' absenteeism-related costs fell 2.73 dollars after each dollar spent on fitness programs. 
That's a considerable good ROI. On top of that, not just healthcare costs are the costs to save. Investing in wellness programs leads to better corporate stock performance. Companies that spent money on employee wellness could realize ~325% increase in their stock value in the last 14 years. Early adoption in wellness programs paid off: and the trend is still going upwards.
Furthermore, the runner of The Health Project speaks about a metric called VOI (value of the investment). The essence of VOI is that corporate health programs aren't just about money and the effectiveness can't just be measured with ROI. He says that morale, happiness, voluntary knowledge-sharing, brainstorming, social and intellectual advantages cannot be described with dollar value.
It's all connected and leads to a better employer reputation. With wellness programs, you even build a better brand for your company. That's a win-win situation for everyone.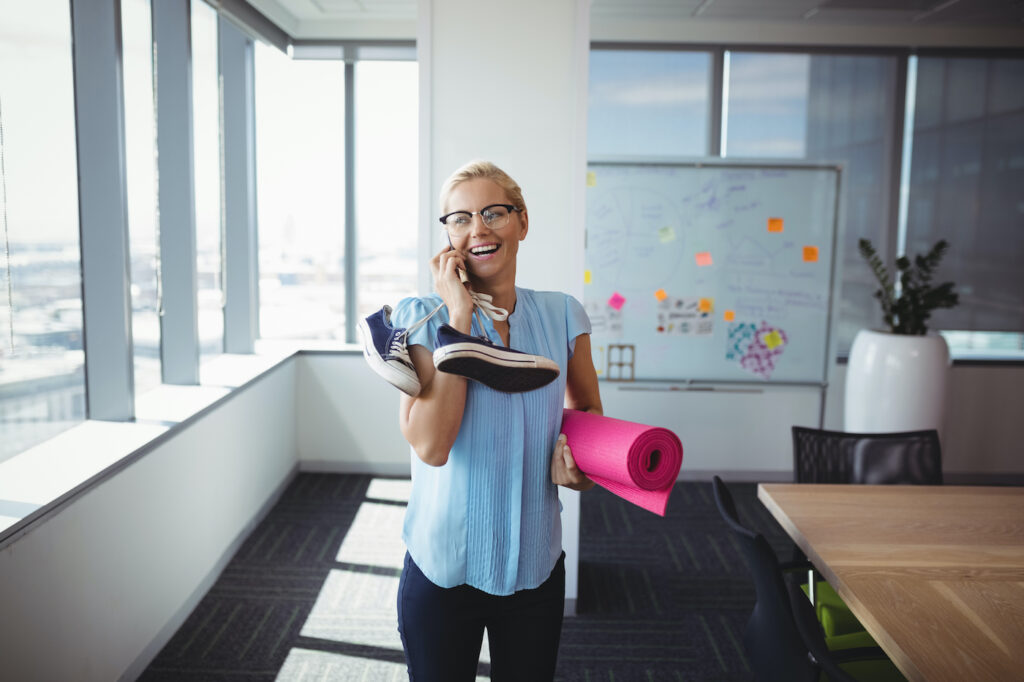 Corporate health and wellness programs: 5 good examples
We've got some case studies in which companies run a decent wellness program. And that's our advice for you too: investigate first, before implementing health programs into your company. See the dos, don'ts, and do betters. Learn from others.
Google
This is how Google takes care of its employees: they offer flexible parental leave policies, retirement saving plans and death benefits. You can even bring your family to work if you want. Google also encourages mental and physical therapies. Highly equipped offices, fitness centers and classes save time for 'Googlers' and keep them fit.
Microsoft
The other tech giant says: do what you love. Microsoft gives you the passion, autonomy: it's a workplace where your ideas matter. They run many CSR campaigns and hire people with different disabilities. Mental health and evenness is key focus at Microsoft. 
Asana
We love using Asana – probably it's because people working for Asana love their job. Asana provides nap rooms for its employees. The company was recognized as the best place to work 4 years in a row! Not just naps but healthy eating (they have a culinary team to serve fresh food daily) is also a significant factor in Asana's wellness program.
Hasbro
Hasbro doesn't just have a significant impact on children's life but takes care of its employees too. Running different employee wellness programs offering on-site fitness centers, healthy meals, meditation, yoga classes and smoking cessation events. 
SAS
SAS has a 7 pages long document to highlight the most prominent factors of an effective employee wellness program. They developed and executed their fitness plans: with a free on-site healthcare center, healthy snacks. They measure everything and calculate the ROI of the program each year: like a professional. 
Here's how you can begin an initiative within your organization
Step 1: Decide!
How big is your company? Do you have the resources (not just money, time and experience) to manage a company wellness program? What are your goals? 
Wellness programs are cool and trendy, but they also can be counterproductive. And mostly not the money is the problem but the lack of support from the leaders. You cannot just hire someone to fix your company culture and make your employees healthier. You have to participate actively.
Step 2: Plan!
How are you going to reach your goals? Which program will be participation-based and which will be result based? Individual or team challenges? Will you focus on mental health too or just train your employees physically?
Planning is the most crucial part of setting up a corporate wellness program. Don't take big steps: start with a walking meeting, a healthier lunch. Don't ask your colleagues to quit smoking immediately. You have to stay reasonable. 
For more ideas, read our article: office fitness challenge ideas.
Step 3: Communicate!
Keep your wellness program simple with constant and transparent communication. Everybody in the office has to know: there is something going on. A competition is coming. Make everyone participate with a goal your employees can identify with. 
The best way of communication is storytelling. Create stories for your employees to work (out) for.
Step 4: Gamify!
Your corporate wellness program has to be simple but fun. Use gamification tools, organize competitions, and reward systems.
Step 5: Use incentives!
Keep your employees motivated with small incentives or big rewards. Give them acknowledgement, gifts, provide some free fruits in the office. Offer health-risk assessments.
Read more types and examples about wellness incentives. 
Step 6: Create team-bonding events!
From wellness initiatives to team building: wellness programs will create new friendships within the company. A healthy break, nap, run or lunch together will open up your colleagues. The morale will boost up!
Step 7: Measure and improve
You have to collect data about the performance of your employees. And not just about their fitness challenge scores, but about their work too. Measure how many days an employee will skip due to illness before and after your wellness program. Measure how much work gets done; see if there is a boom in productivity. 
Do the math and calculate the Return on Investment. And even the Value on Investment. How much did you save? How are the team morale and employee engagement? Did the fluctuation decrease?
Who should organize workplace wellness programs?
One of the most important questions is who should be responsible for wellness programs in the company? You have to know: behavior change is one of the most difficult things a human can face. 
At most companies, there is someone who wants to empower the others to maintain a fitness lifestyle. If not, someone from the current HR department has to take care of this extraordinary task. Other companies hire an expert to conduct this whole process. 
Truth is, that none of the above are effective enough. You have to work together with a hired vendor and even company and department leaders have to show an example, how behavior change gets done. Health coaching is the best when you do it together. 
Conclusion
If planned correctly an employee wellness program can be an excellent investment for your company. You can cut health insurance costs and boost productivity at the same time.
The return on every dollar spent can be between 2-4 dollars

It's a costly but a long term investment

Employee engagement will rise

Your brand will be more valuable
Based entirely on scientific evidence, our digital employee wellness programme has been created for companies looking to win big.
Stay in the know
Sign up for our newsletter and never miss another update on digital health care, employee wellness programmes and all things health! Powered by Fitpuli's health experts.